School Uniform
Wordsworth Primary School Uniform
Designed by children for our children
Last term at Wordsworth we held a competition for the children to design a new school logo. There were so many super ideas. So many in fact that we decided to combine two designs together to make the final logo. One of our Year 6 pupils and one of our Year 2 pupils worked together combining their designs to produce our amazing new logo. As you can see this logo is now in production.
We feel this design represents our wonderful diverse school community, as well as expressing that we are part of a global community, which ultimately we are preparing our children for. We also feel the design reflects our aspirational hopes and dreams for the children- reaching for the stars, and is a really appropriate design for a Primary School with children from age 4-11.
Whilst it is a move away from the daffodil, we feel there are plenty of other elements within the design that still give a nod to our namesake Wordsworth as he wrote about nature and the world. The use of the intials WPS rather than the whole school name is a popular choice among our children, and it is also a sensible safeguarding measure.
We hope you love the finished product as much as we do!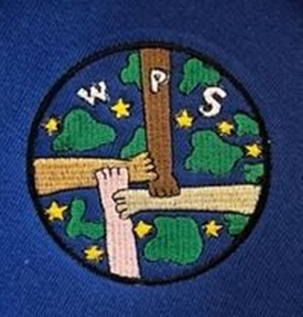 The stars are mansions built by nature's hands: William Wordsworth
Wordsworth Primary Active Uniform from September 2022
We are delighted that we will be making a gradual change to our school uniform, in conjunction with the introduction of the new school logo.
The new uniform is unisex. The primary purpose is for it to be 'active wear'. This means it is suitable for all sports and outdoor learning as well as other lessons, and it will enable our children to take part in outdoor learning or physical activity at any time during the school week rather than just on P.E days or Outdoor Learning days. Many schools across the country are moving to this style of a more active uniform as research has shown that a physically- restrictive school uniform has the potential to inhibit physical activity, particularly among primary aged girls, for example during break and lunch times. There is a strong correlation between physical activity and positive mental health.
We listened to opinions from a 'Parent Uniform Consultation' when we decided on the uniform. 83% of parents said they would prefer jogging bottoms or leggings. Only 3% of parents requested formal school trousers or dresses. 94% of parents requested trainers for footwear and 60% of parents requested a sweatshirt.
Many parents also asked for a darker polo option. This is because the lighter coloured polos stain more easily and are harder to clean. Outdoor learning tends to be dirty/ muddy as do outdoor sports, hence the decision for a royal blue polo.
This term we have launched our active uniform, introducing a new school sports polo, which will double up both as the day-to-day school uniform polo and the PE polo/ Outdoor Learning polo. Together with a royal blue round-neck logo sweatshirt, this will form the core of the new school uniform.
Here are the details: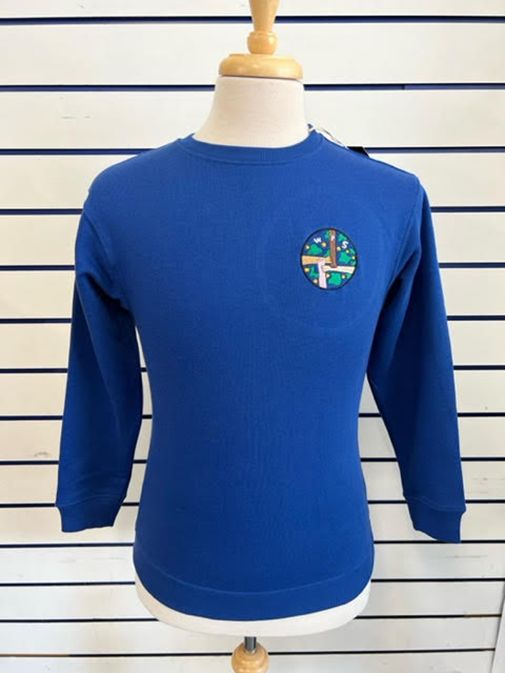 Jumper: Our school jumper will remain a royal blue sweatshirt with our new school logo. Alternatively cardigans with the new school logo will also be available.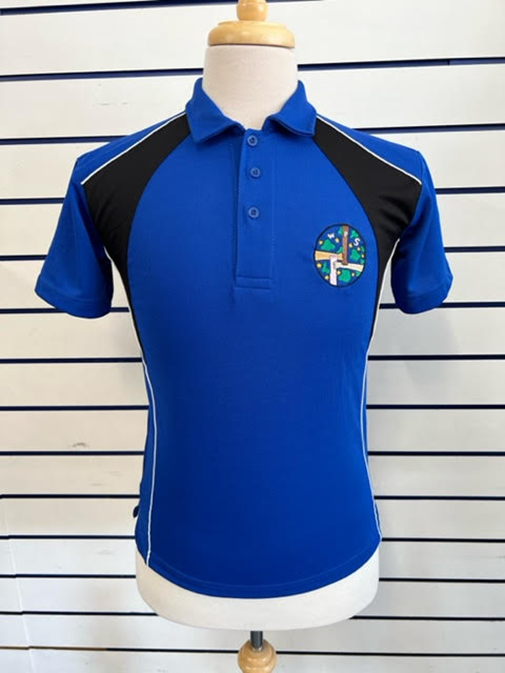 Polo shirt: The new polo shirt is made of a more technical fabric designed to support active performance. It is a cobalt blue colour with black shoulder stripes and our new logo.
The material this is made from has been selected for its appropriateness to P.E and Outdoor Education. This provides a smart look that allows for lots of movement without compromising quality or style.
As an alternative parents can choose to purchase a darker polo shirt, Sainsbury's call this type of polo 'Royal Blue.' Asda call it 'Cobalt Blue.'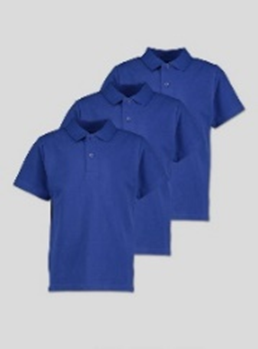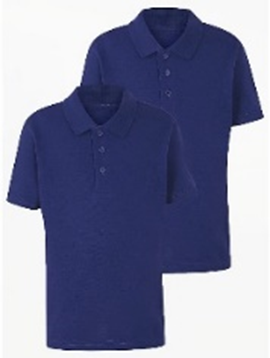 Trousers: Black leggings or jogging bottoms are replacing traditional trousers. These do not need to be purchased from a uniform supplier.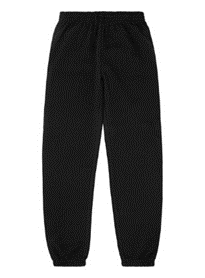 Summer wear: Black shorts will be the summer uniform for both boys and girls. Alternatively, girls could choose a black 'skort.'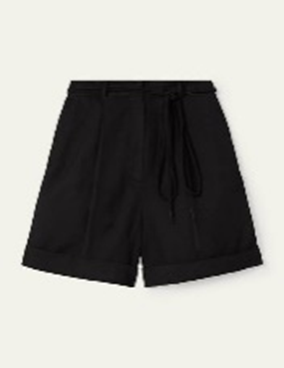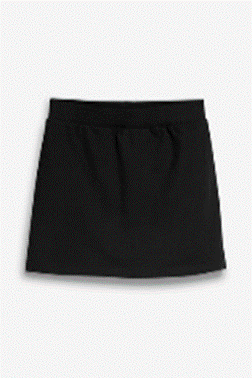 Also blue checkered summer playsuits will be allowed: see below for examples of these: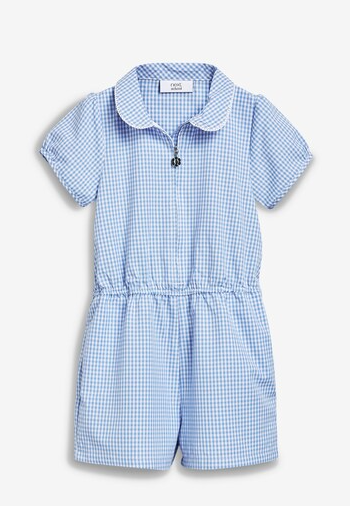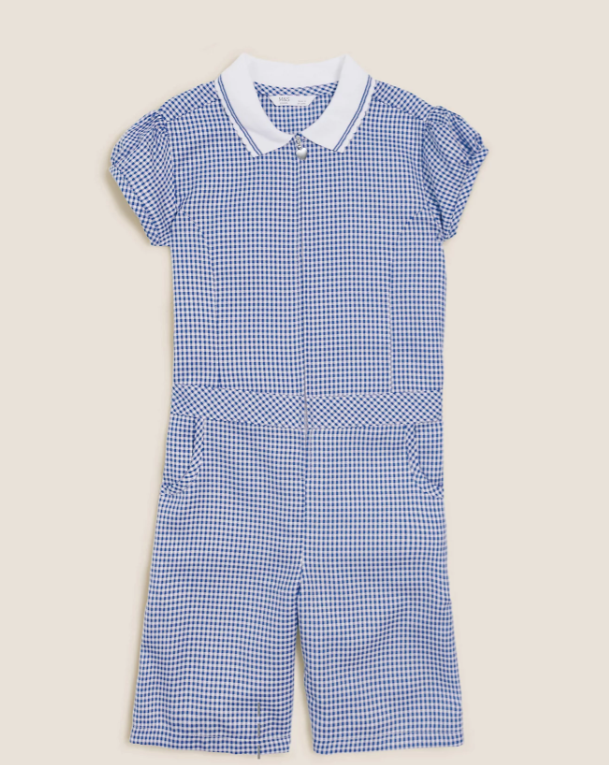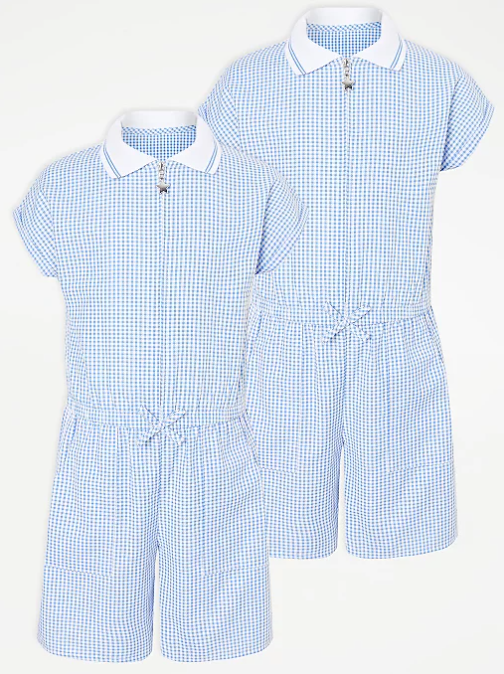 Footwear: Trainers will replace traditional school shoes. Preferably black or mostly black if possible.
Book bags: Book bags and ruck sacks will still be available to purchase with our new logo.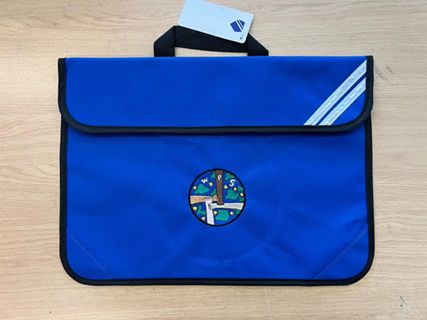 Below are the price lists from our suppliers.
There is no expectation for parents to buy this uniform if a current uniform still fits their child. Both uniforms are welcome in school until the older uniform naturally phases out.
RETAIL- HOW TO ORDER: From the Koolskools retail outlet at 387 Shirley Rd, Southampton SO15 3TS. Tel: 02380-518408.
ONLINE ORDERING: Go to the Wordsworth Primary School link - https://bit.ly/39zVk1s - on the Koolskools website and place your order. There is a flat delivery charge of £3.95.
Orders take a maximum of 10 working days to turn around (15 working days between June and September), from the date of order placement.
A "click and collect" option is available on the Koolskools website for those who prefer to order online but pick up their orders themselves from Koolskools in Shirley Road.
WHY FAIRTRADE COTTON/RECYCLED POLYESTER UNIFORM AND KOOLSKOOLS?
Based in Southampton, over the past 12 years Koolskools have built an internationally renowned ethical clothing company, and work with schools all over the UK.
Koolskools is the only school uniform provider in the UK offering a complete range of garments made with Fairtrade cotton and recycled polyester. Our research has proved that they offer quality, value-for-money garments that are double stitched, easy iron and durable.
KOOLSKOOLS/WORDSWORTH PRIMARY SCHOOL
PRICE LIST 2022
ITEM

SIZE

PRICE

Royal Blue School/PE polo shirt with school logo (see image below)

All Sizes

£13.99

(£14.99 from 38"-40"/Medium adult size upwards)

Royal Blue Round Neck Fairtrade/ECO sweatshirt with school logo (see image below)

Up to and including size 7-8

£12.50

Royal Blue Round Neck Fairtrade/ECO sweatshirt with school logo

From size 9-10 up

£13.99

Royal Blue reversible jacket with school logo

All sizes

£18.99

Royal Blue fleece jacket with school logo

Up to and including size Xtra Small

£14.99

Royal Blue fleece jacket with school logo

From size Small and above

£16.99

Royal Blue PE bag with school logo

-

£5.50

Royal Blue book bag with school logo (see image below)

-

£6.50

Royal Blue backpack with school logo

-

£13.99
SKOOLKIT/WORDSWORTH PRIMARY SCHOOL
From July 1st: https://www.skoolkit.co.uk/school-uniform/321
2022 Price List
Royal Round Neck Sweatshirt

Embroidered with logo:

22" = £9.75
24 - 26" = £10.25
28 - 30" = £11.50
32" = £12.40
34" = £13.35
XS = £14.35

Royal/Black/White

ZR20 Polo

Embroidered with logo:

Black SW1636 Jog Pants

3/4 Yrs - 11/12 Yrs = £10.50

Black DL17 Shorts

18 - 28" = £6.99
30 - 32" = £7.75

Black ZR38 Leggings

24/26" - 28/30" = £14.50

30/32" = £16.25

Royal Bookbag

Embroidered with logo:

Years R - 2 = £6.75

Royal Junior Backpack Embroidered with logo:

Years 3 - 6 = £15.00

Iron on Name Tapes

x36 = £4.50

x72 = £5.50
Prices are correct at the time of printing
Totton Shopping Centre, 1 Commercial Road, Totton, SO40 3BX Email: totton@skoolkit.co.uk
Opening Times:
Monday – Friday 9am – 5.30pm
Saturday 9am – 5pm
PLEASE VISIT US AT: www.skoolkit.co.uk