School News
Language of the Week
Dari
In our school, 3 children speak Dari.
Facts about the Dari Language:
Dari is one of the two official languages of Afghanistan
About half the population of Afghanistan speaks Dari
Dari, rather than Pashto, serves as the means of communication between
Speakers of different languages in Afghanistan
To find out more about Dari, please click here: https://www.wordsworthprimary.co.uk/attachments/download.asp?file=910
---
---
Language of the Week
Bengali
In our school, there are 6 children who have Bengali as their first language.
This week, we learnt to practise how to say 'Good morning!' and 'Goodbye!'
Facts about the Bengali Language:
· 210 million people speak Bengali
· It is the 8th most spoken language in the world.
To find out more about Bengali, please click here: https://www.wordsworthprimary.co.uk/attachments/download.asp?file=802
---
The Stephen Spender Schools Laureate Prize for Poetry
To read our students' fantastic poems and learn about their success, please click here.
---
Hamish and Milo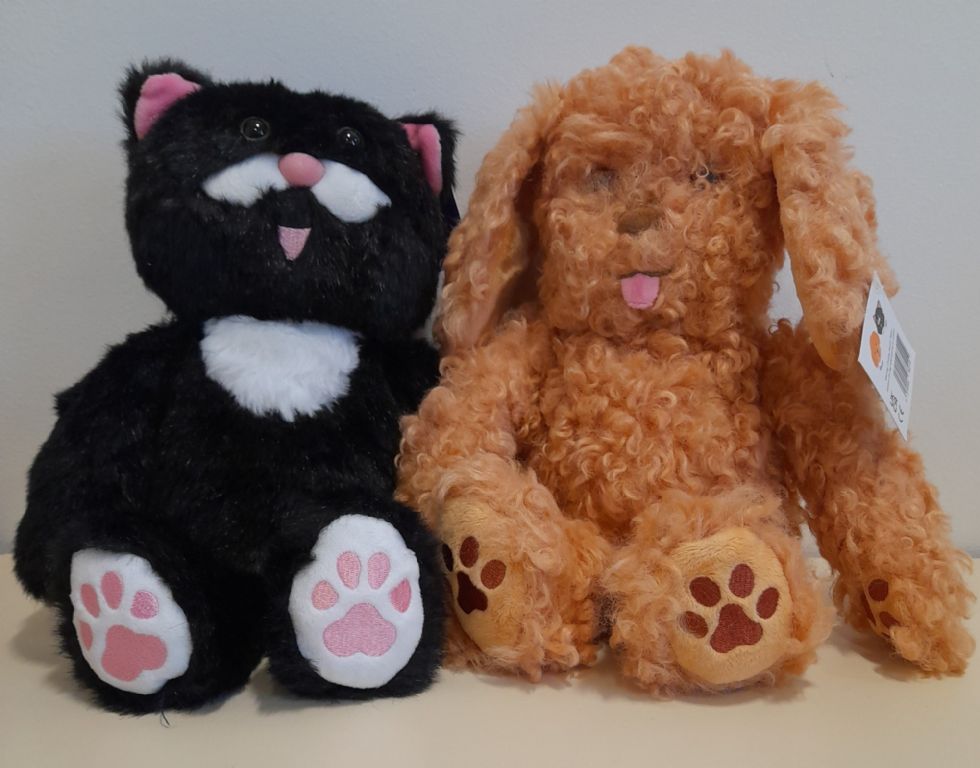 Please click here on the impact Hamish and Milo have had on our children.
---
Please find below links to help regarding online harassment, harm or misuse
https://www.esafety.gov.au/parents
https://www.esafety.gov.au/kids
https://www.esafety.gov.au/young-people
https://www.kidscape.org.uk/advice/advice-for-parents-and-carers/cyberbullying-and-digital-safety/
https://assets.publishing.service.gov.uk/media/5a81638840f0b6230269709c/Advice_for_parents_on_cyberbullying.pdf
https://www.nspcc.org.uk/what-is-child-abuse/types-of-abuse/bullying-and-cyberbullying/
https://www.internetmatters.org/connecting-safely-online/advice-for-parents/tackling-the-hard-stuff-on-social-media-to-support-young-people/cyberbullying-advice-guide/
---
Year R 2024 Open Days!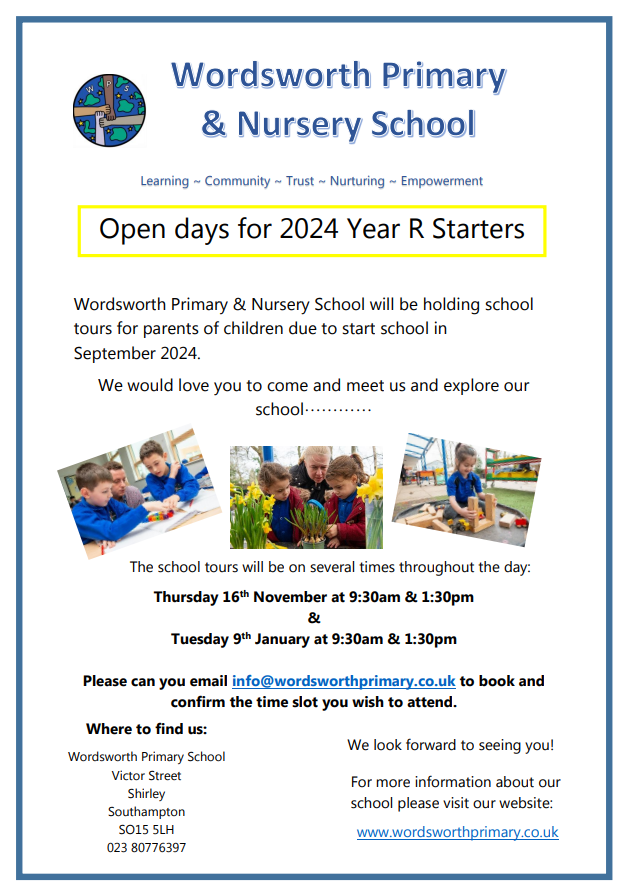 ---
Dolce Space Themed Lunch!
This Thursday, our school catering Dolce, are offering a Space menu! This is available to order on the SchoolGrid app in the usual way if you would like to preorder your childs space themed lunch.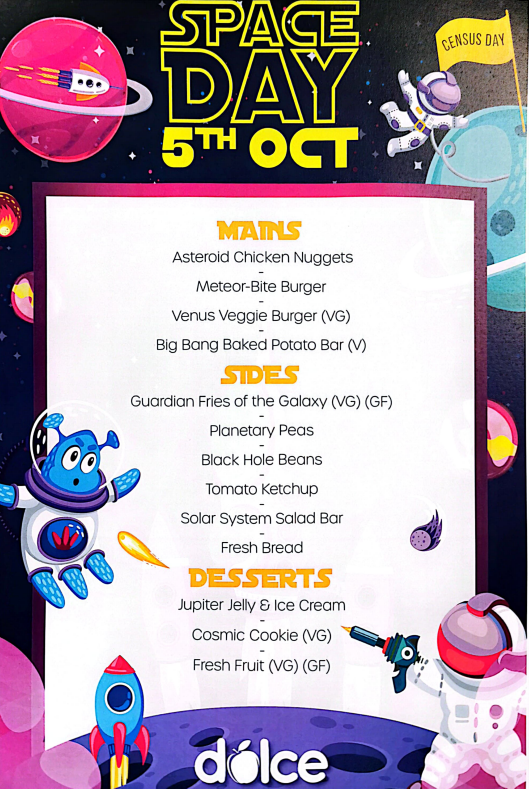 ---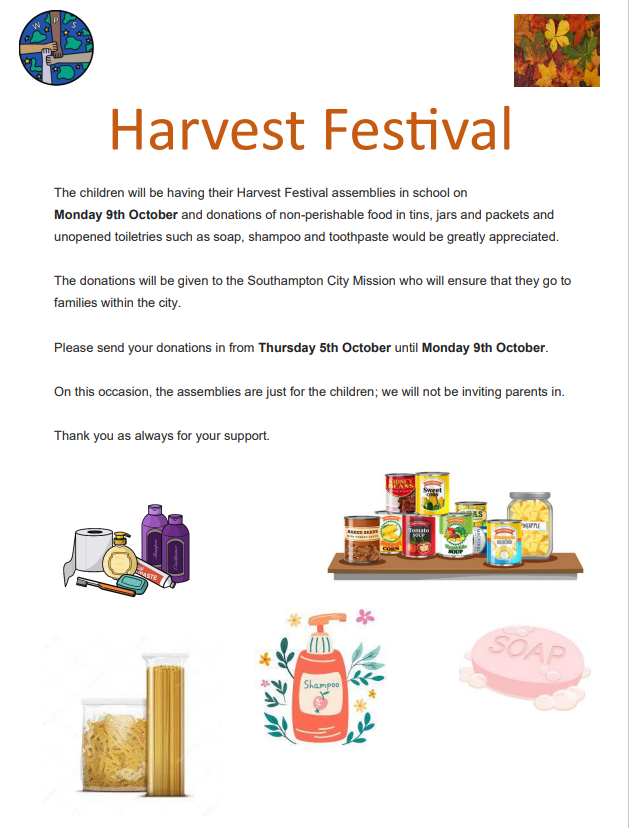 ---
South Hampshire Deaf Childrens Society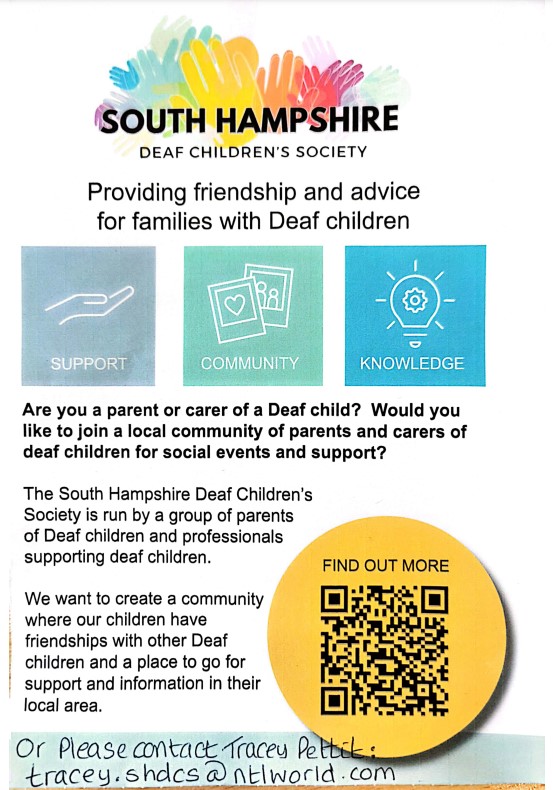 ---
Solent Shanty Lyrics/links to YouTube are below:
Woolston Ferry: https://youtu.be/ZFa8E0KJnUU
When I grow up: https://youtu.be/ize81HG0hoo
Throw out the Lifeline: https://youtu.be/UruDDGHb12k
The Ocean is Blue: https://youtu.be/YvfBhjkrslA
The Curse of Stokes Bay: https://youtu.be/nzgfK9dyuws
Ship Ahoy: https://youtu.be/uSZ-SUZpunw
Down the Solent: https://youtu.be/mANKQcNfulI
Click below for letter re dates for Solent Shanty:
https://www.wordsworthprimary.co.uk/attachments/download.asp?file=657
Click below for Lyrics:
https://www.wordsworthprimary.co.uk/attachments/download.asp?file=688
---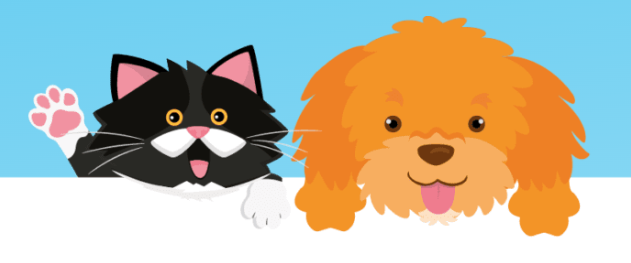 Hamish and Milo Wellbeing Resources; a comprehensive emotions curriculum and range of SEMH intervention programmes. We provide the framework, language and content for courageous conversations about mental health and emotions - helping primary-aged children to develop emotional literacy skills to feel heard and thrive in life and learning.
Please click on the link below for information regarding Wordsworths Hamish and Milo intervention:
https://hamishandmilo.org/wordsworth-primary-school-southampton-hampshire/
---
Polite reminder: Home Farm Permission Slips:
Please could we have the permission slip/medical/allergy information sheet completed and handed in on Monday 24th April at the Home Farm Parents Meeting. We need to collate this information and forward to Home Farm in readiness for the children who are attending.
---
Our Language of the week is: Farsi
Click here to learn all about the language and culture.
---
For information about our after school clubs after Easter, please click here..
---
Landscape Strategy
We are very excited to share our plans for our Landscaping Strategy at Wordsworth Primary. To download these plans, please click here.
---
21st February - International Mother Language Day
At Wordsworth, we celebrate bilingualism and encourage our children and their families to continue speaking their mother language at home, in their communities and at school, when they have the chance. Today, we are celebrating the International Mother Language Day. Children will be doing some morning and afternoon activities and we will all be honouring the wonders and joys of something as amazing as being a bilingual child.
We want to praise and congratulate you on the effort of keeping your child's first language alive. It is an important part of who they are and it keeps them connected to their roots, their family, their communities, their culture and history.
Here are some of our Year 6 children taking pride in speaking their mother language.
---
World Thinking Day
Each year on 22nd of February members of the Girl Guide and Scout movements celebrate World Thinking Day.
It's a day when they think of each other and give thanks and appreciation for the international Friendships. 22nd of February was chosen as the date for World Thinking Day because it was the mutual birthday of Lord Baden-Powell founder of the Boy Scout Movement and his wife Olave who served as the World Chief Guide.
One of the traditions of Thinking Day is that members of the Guiding and Scouting movements wear their uniforms to school to show others that they are part of the movement.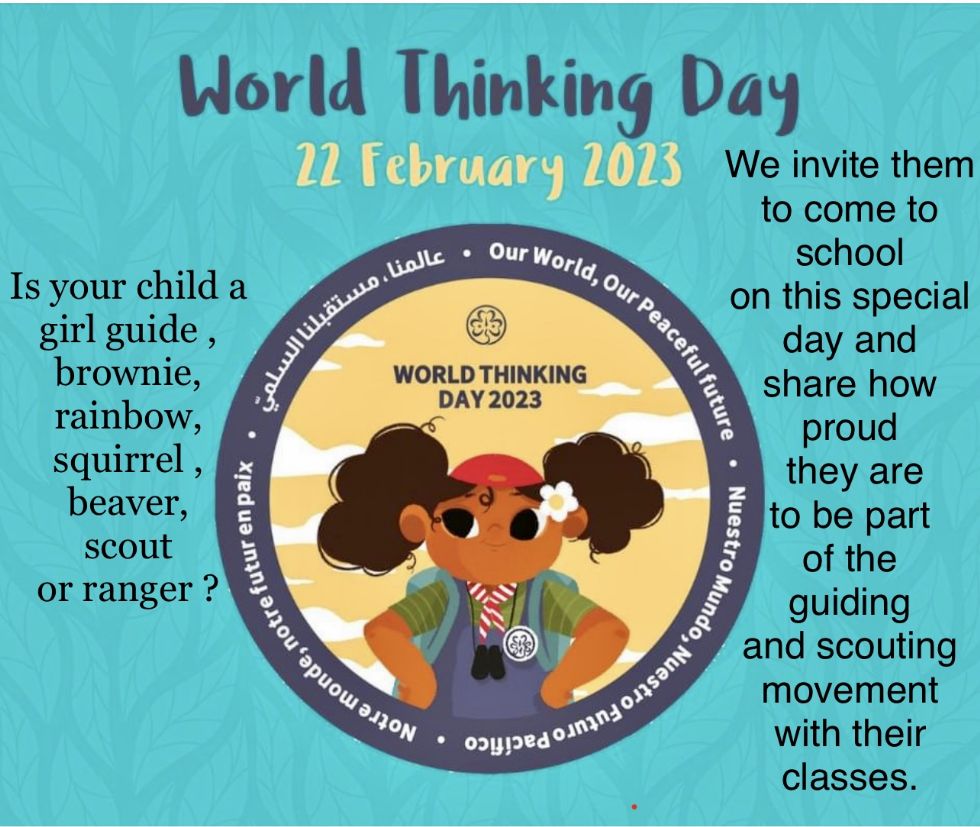 ---
A reminder that tomorrow is our Chinese New Year menu. All children receiving a hot dinner will be in with the chance of winning a golden ticket. The lucky recipient will find the golden ticket stuck to the bottom of their plate/tray. The golden ticket is worth £10 in Amazon vouchers!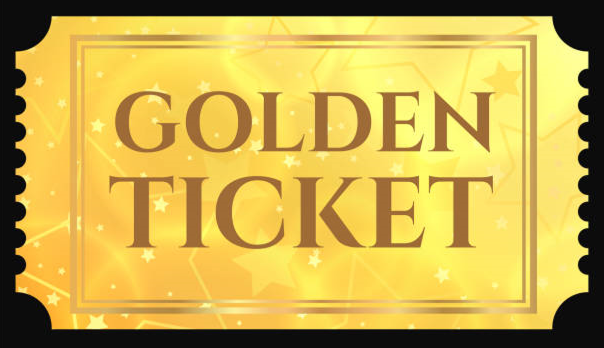 ---
FFT National Attendance Award!
FFT collects daily attendance data from over 10,500 schools. This data has helped schools track, monitor and compare their attendance every week through our Attendance Tracker system.
Whilst all schools do an amazing job to improve pupil attendance, we'd like to say a special 'thank-you' to your school by presenting you with an FFT National School Attendance Award.
What are the FFT Attendance Awards based on?
The awards have been given to schools with attendance in the Top 10% and Top 25% of all FFT schools nationally for the 2022 Autumn term.

---
Christmas for Children who have experienced trauma
It's that time of year! We have heard the songs in the shops, seen lights going up and perhaps attended 'switch on 'events that are happening in local communities. We know that no matter how carefully we plan there is, at times, something else that influences how a child or young person may respond.
During this term there are likely to be changes within the school day – both planned and those that are 'seize the moment'. This may be rehearsal times, changes in assembly times, staffing changes alongside seasonal displays on the classroom and around the school – many of which will 'disappear' over the Christmas break. This in turn means that pupils return to an environment that may look very different to the one they left at the end of term 2.
Please click below:
Christmas for Children who have experienced trauma
The document contains a combination of ideas and resources that may be useful at this time. The information has been pulled together for the South East Adoption partnership but the content within is targeted to support those working with and caring for children and young people who have experienced trauma.
---
Woodland Trust's Green Tree Schools
Wordsworth Primary has been given the bronze award! We have achieved this award for doing things like planting trees, reducing our Co2 and visiting forests.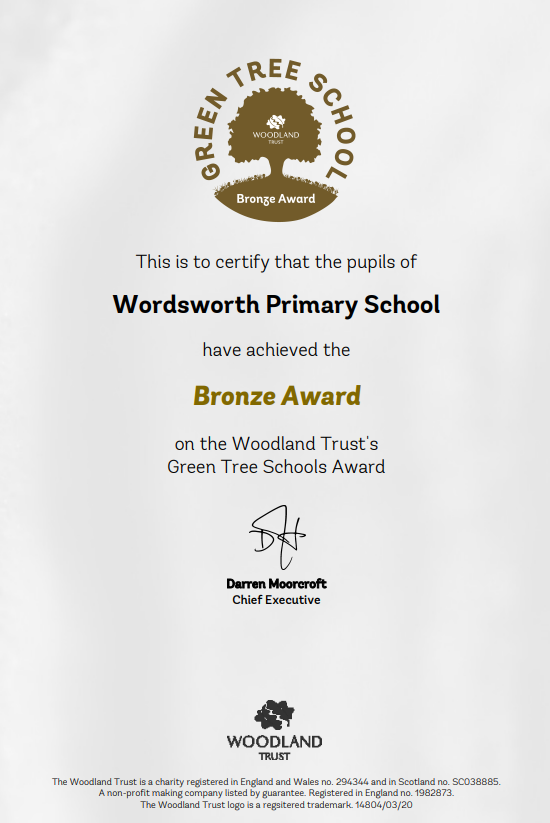 ---
We love to hear how you feel about Wordsworth
(comment from one of our parents)
"I am feeling overwhelmingly happy by this beautiful, kind and thoughtful wish from all the staff at Wordsworth Primary School. This has made me tear up. Honestly it means so much to us. Thank you for always including communities from various backgrounds. This is what makes the school one of the best in Southampton. I couldn't of chosen a better school for my son.
I think it's lovely to see everyone being accepted regardless of what faith you come from. Wordsworth School has always been fantastic when it comes to equality. Thank you so much for everything you do for us and our children"
(comment from one of our parents re the change in logo and uniform)
"This is a great idea and alot of hard work from you and other staff. It's just what we need to pick us back up from last 2 and a half years we have had.
Thank you so much for all your hard work and keeping us up to date with everything going on in school especially with what has gone on in the world.
All staff have worked extremely hard to keep education ticking over for our children. Thank you so much."
Regarding our recent Year 2 Residential:
"I just want to take the time to feedback to you, that in conversation with some of the Minstead Study centre staff today, they were exceptional complimentary about your students and yourselves as a staff team when you were there. They specifically mentioned staff engagement with activity including complimenting the study centre tutors at all times and the support of pastoral care at all times around the sessions. From our perspective I think it's important to feedback when we hear about excellent residential practice, so what ever you are doing please keep doing it!"
(From a Parent of a child who attended the residential)
"I just wanted to send a massive Thank You to all the teachers who attended the Minstead Trip this week. My son JH from class ** had the most amazing time. From what he has told us it was fun from start to finish. He loved the activities especially singing around the camp fire and liked all the food. He told me the Minstead staff James & Lucy were brilliant. As parents, it is lovely to hear and watch their confidence grow."
---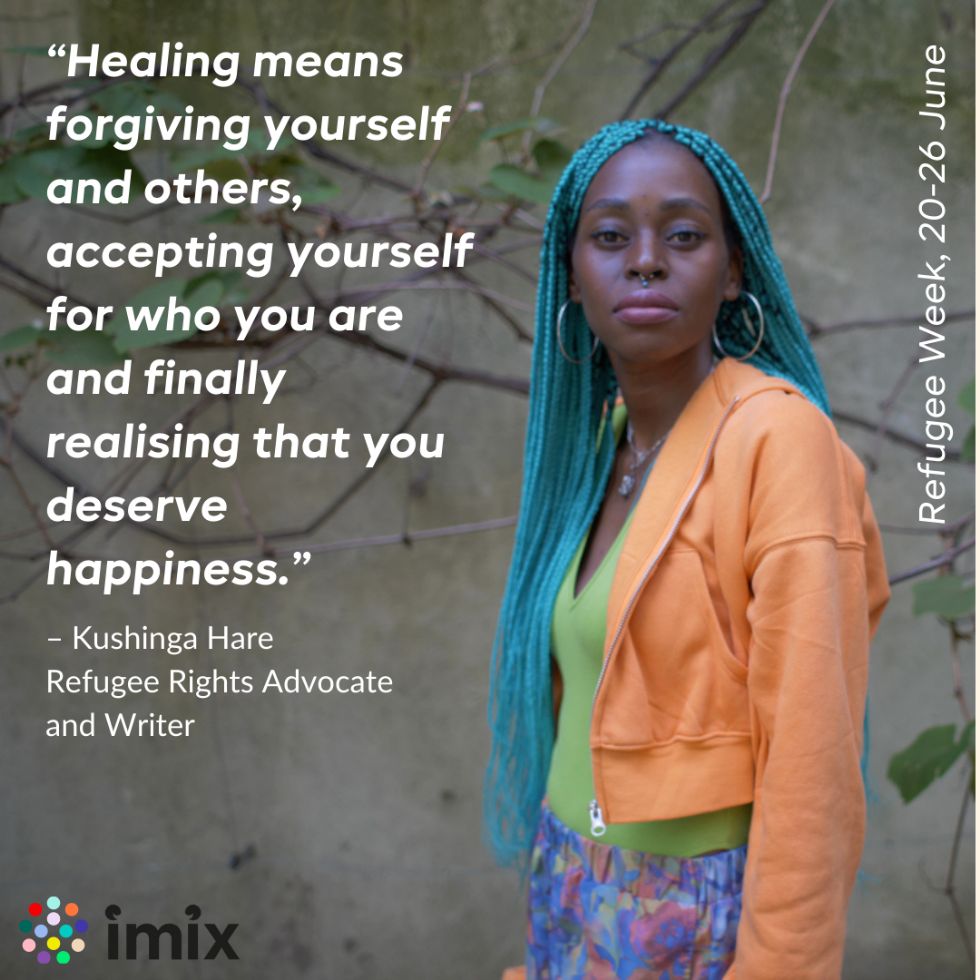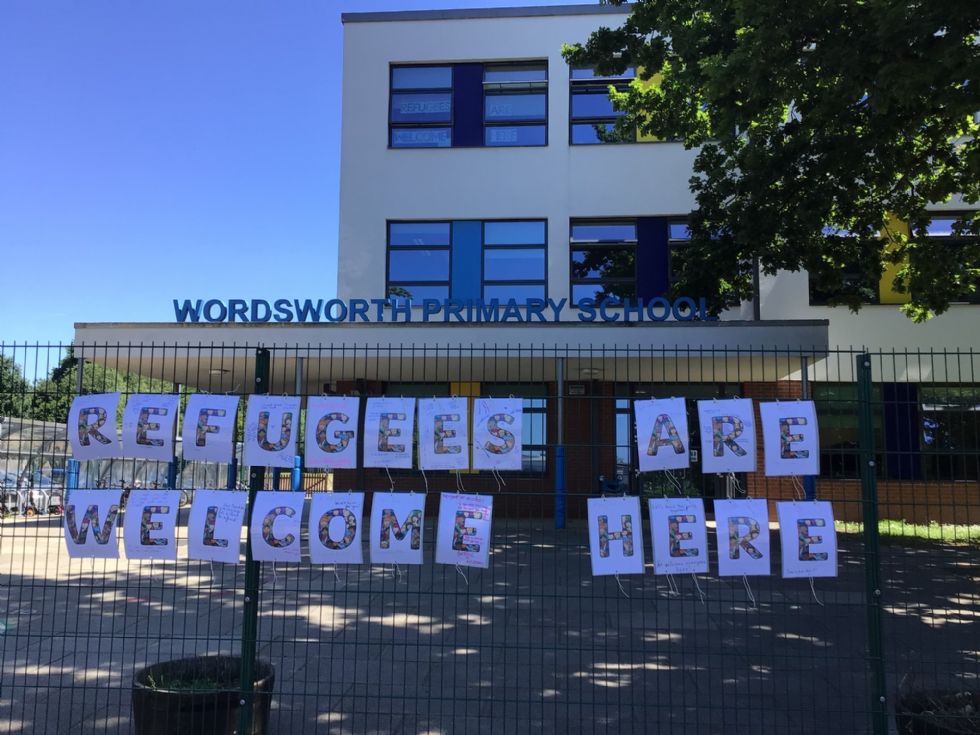 This week we are celebrating Refugee Week. In class, we are doing some activities to support refugees and to become aware of their struggles, worries and accomplishments. This year's theme is 'healing', so we are looking at ways to heal from trauma, sickness or even heal our planet. Please join us in this celebration of resilience, connection, mutual care and the amazing ability to start again.
At Wordsworth, the children have written some messages for the refugees and we displayed them on the school fence. On the top floor windows, you can also see REFUGEES ARE WELCOME HERE.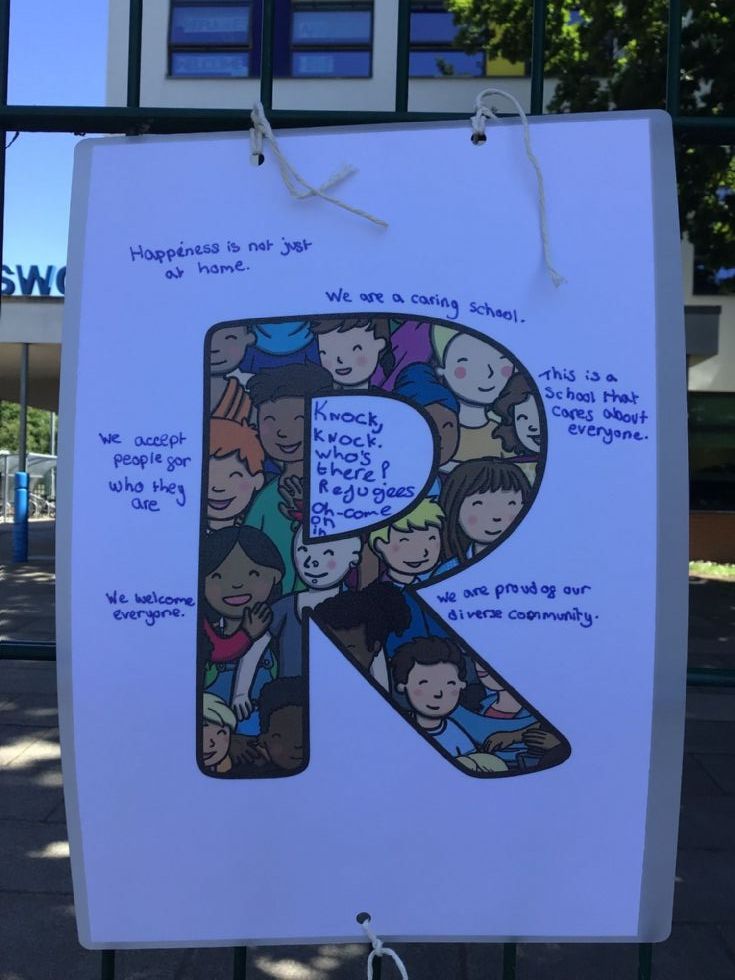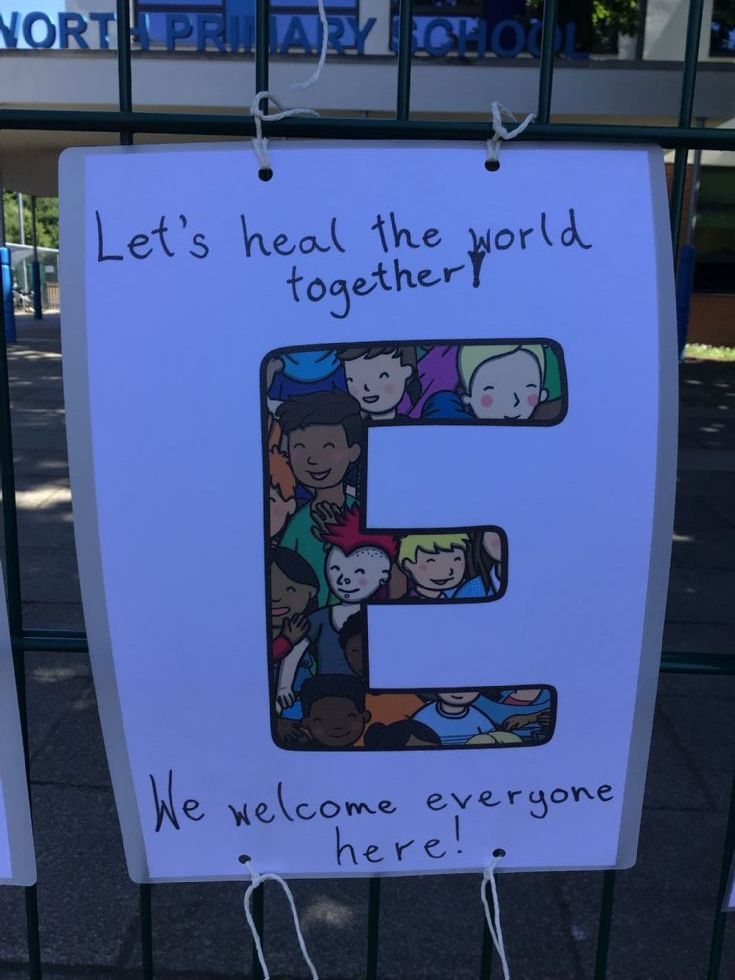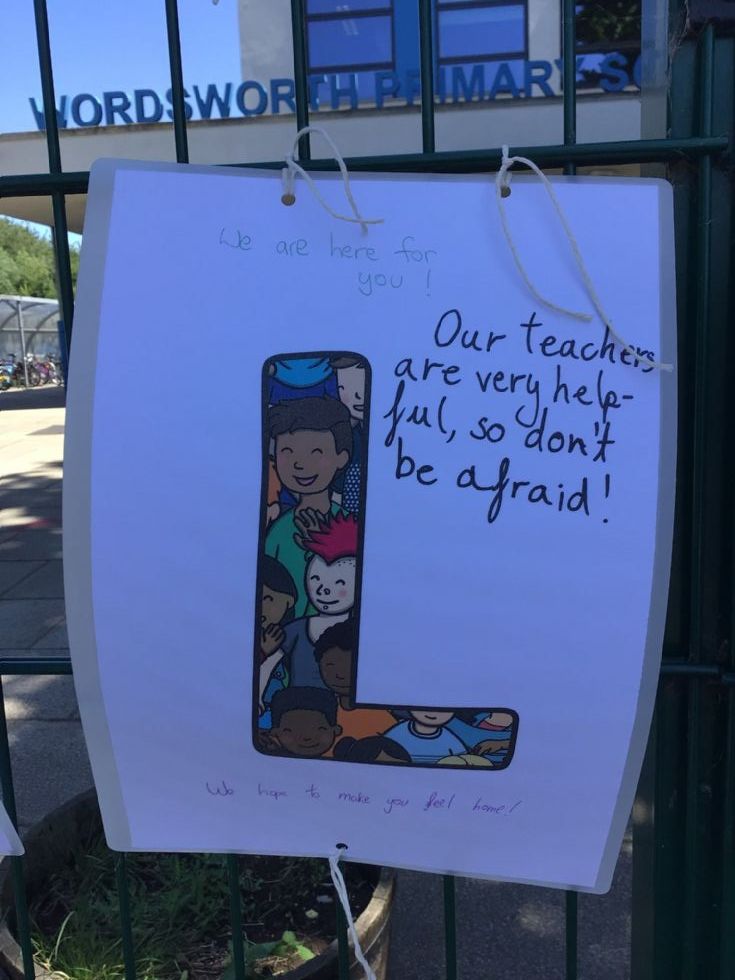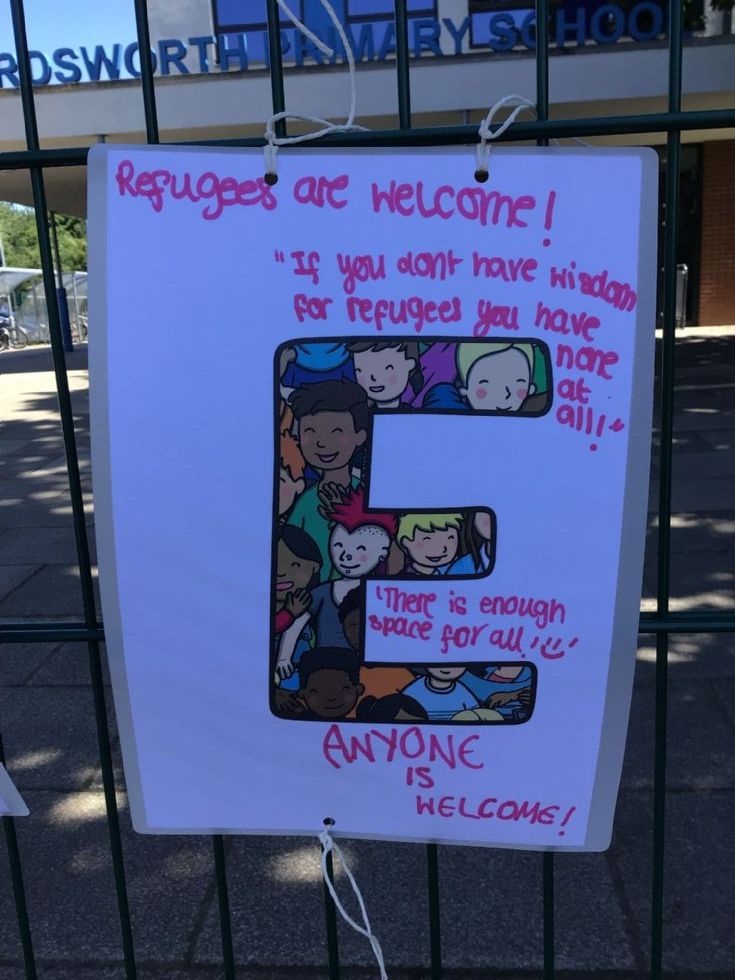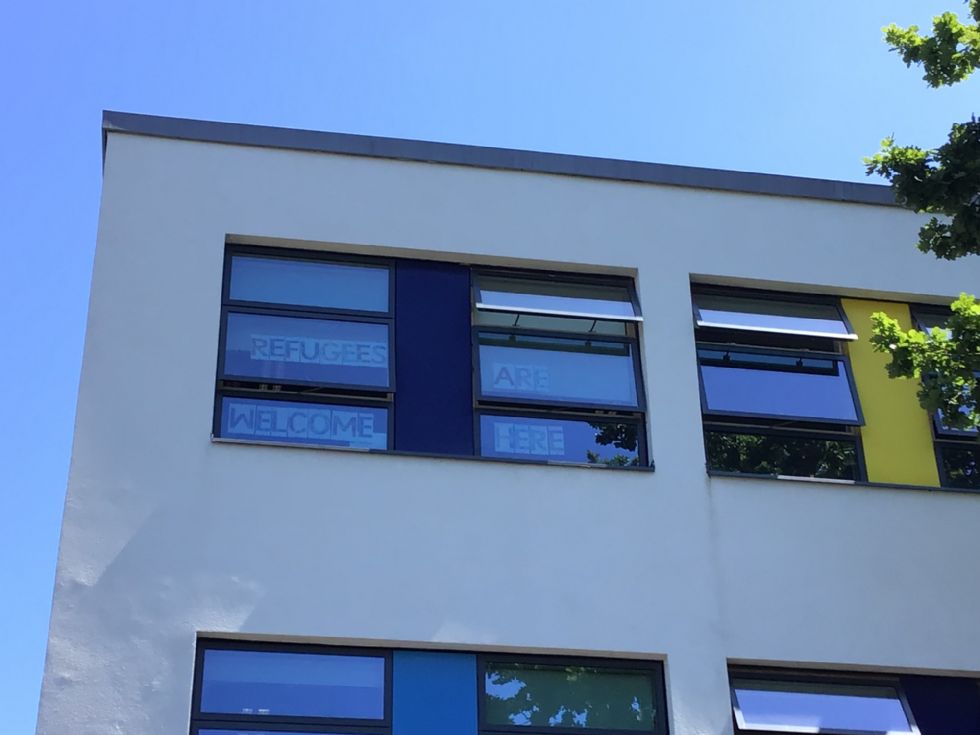 Gypsy, Roma and Traveller History Month
This June, we are celebrating Gypsy, Roma and Traveller History Month. The theme for this year's celebration is 'Homes and belonging'. We are aiming to educate and raise awareness in our school and community, where we promote inclusion and embrace diversity.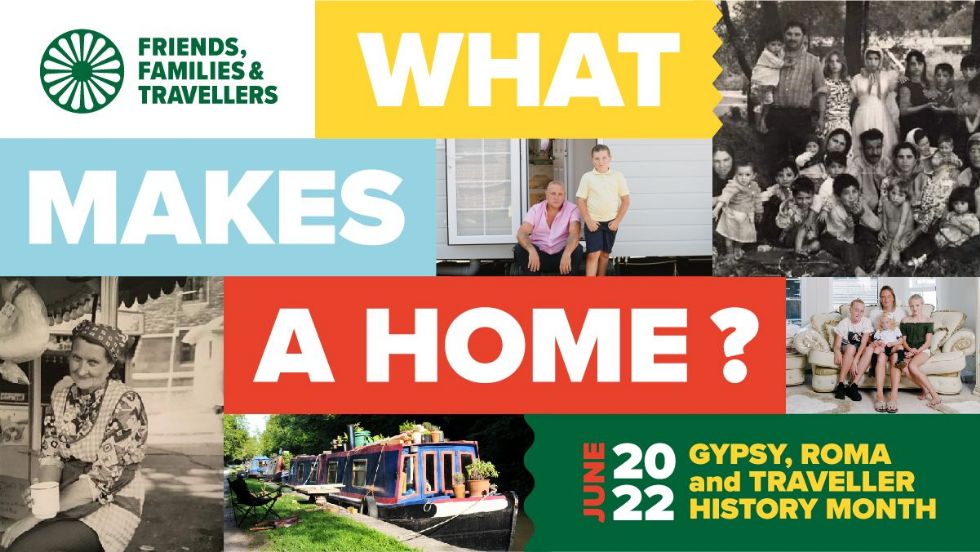 ---
Parent Teacher Meetings
Information about this is now here: